Your production line is like a chain
Mecolpress: the best link
An integrated production line is like a chain, where all the rings must be equally strong:
The choice of raw materials (bronze, steel, aluminium, copper, titanium), the preparation of billets (Graphitizing, heating, shearing), machining and surface treatments and of course the phase of hot forming.  Mecolpress, which designs, builds and installs mechanical, hydraulic and screw presses, for hot forging from 1969, can be the best connection point for your production line.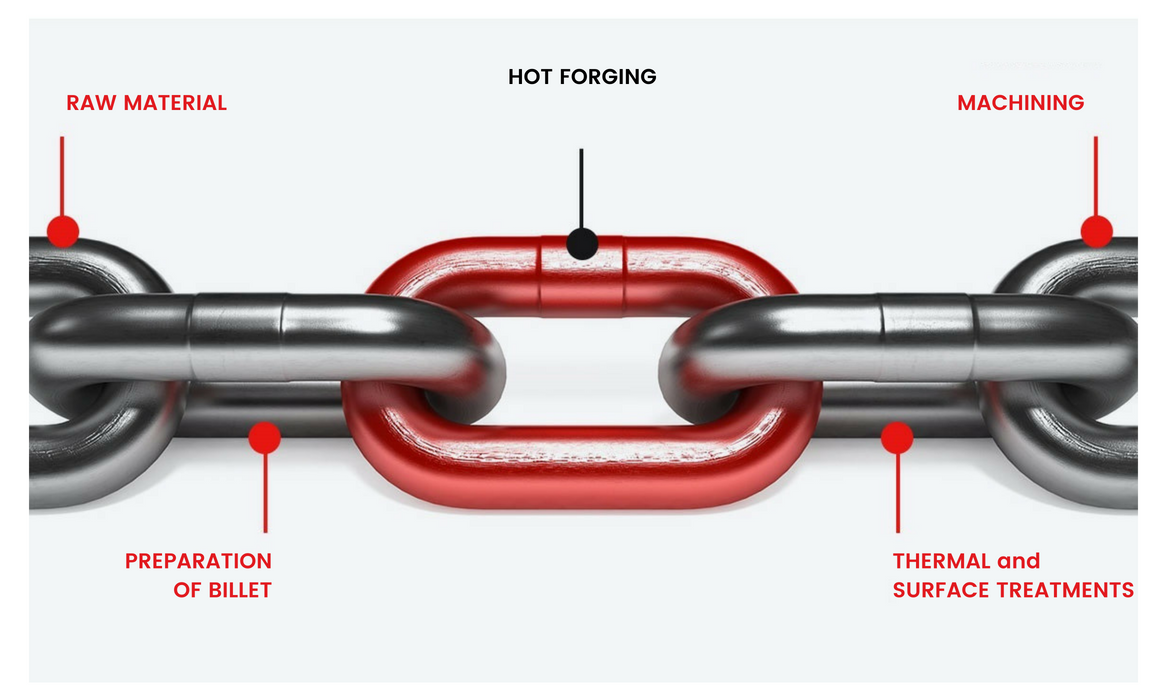 01.
Analysis of the forging process
The study of the forging process is the first step towards the definition of a job order.
By supplying turnkey forging lines, we define in advance the entire line's individual functional performance so that we are then able to guarantee it to our customers.
Mecolpress analyses and simulates the forging process proposing, if necessary, project adjustments of the forged piece, which could reduce the quantity of material and the number of subsequent working phases required.
02.
Defining the best forgings strategy
By using our Deform numerical simulation software, Mecolpress can define the best forging "strategy" needed to optimize material flow and minimize defectiveness.
The process is shared with the customer, since the objective of Mecolpress is to tailor the forging system to meet the actual requirements on one side, and, on the other side, to cooperate in the development of leaner forging and machining processes.
03.
Configuration of the machine strategy
This type of approach allows to fully exploit the potential offered by the new ME series line of flexible forging cells:
freely managing variable entry speeds, punching pre-start, multiple stop and punch inverse extrusion positions can achieve results that are simply unreachable with traditional machines.
Example of Co-Engineering
The example shows the forging of an LPG valve, switching from traditional forging with flash to a "flash-free" forging method. Weight saving amounts to 25%.
In particular, the operational flexibility of the punches allowed the realization of a one-of-a-kind die: a plug is shifted and locked into position by the coordinated movement of two punches.
The undercuts present on the piece would have made it impossible to forge the same valve without flash using a mechanical machine.

Examples of numerical simulation
The optimal forging strategies are defined together with the client, after simulating the machine actions.